Welcome To Kidzlet Play Structures Pvt. Ltd.


Address
Plot No. 111, Udyog Vihar Extension Ecotech-2, Greater Noida, Dist. Gautam Budh Nagar. U.P. Pin:201306
School Playground Equipment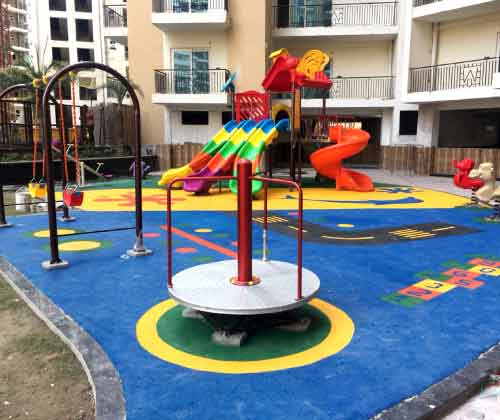 Beautify your school playground with Kidzlet Play Structures Pvt. Ltd. – one of the best School Playground Equipment Manufacturers in Delhi. These can make free-time fun for kids and increase their interest in school. We have a small, medium to large School Multiplay Station to promote the exceptional playing experience and help kids become smarter, healthier, and stronger through play. Keep kids happy and active for hours and promote their better health.
School Playground Equipment Encourages Children to Stay Healthy
Kids love to play & we love kids and fabricate custom solutions according to their preferences. We have a wide range of School Playground Equipment to upgrade your outdoor space with the best within your budget. Moreover, it offers salient attributes like:
Create a unique playing experience for children.
Enhance outdoor play and promote better health.
Available in endless choices for complementing the space.
Captures the attention and ensures the best use of the ground.
Create a natural look and feel and keep kids active, happy, and healthy.
School Playground Equipment Keeps Kids Active And Moving!
Designed to promote outdoor play, School Playground Equipment can change the game and offer unmatched merits. Being noteworthy among School Playground Equipment Exporters and Suppliers in India, we have designs to cater to all ages and abilities. Allow us to create dream play spaces for your little ones.
FAQ'S
How Long Have You Been Operating In The Playground Equipment Industry?

We Kidzlet Play Structures Pvt. Ltd. was started in 2015 and became one of the leading School Playground Equipment Manufacturers in Delhi. We have installed more than 10,000 School Playground Equipment. Our premium quality and creative designs of our School Playground Equipment make us the BEST in town. We have an in-house manufacturing unit equipped with the latest machinery and cut-edge tools. Our highly trained professionals supervise every minute detail during manufacturing and check the quality standard to attain maximum client satisfaction. We work beyond boundaries to bring nothing but the best.
What Other Equipment Do You Have?

Here is the list of different equipment that we have in our catalog:
Outdoor Playground Equipment
School Playground Equipment
Children Playground Equipment
HDPE Outdoor Playground Equipment
Inclusive Playground Equipment
Special Children Playground Equipment
Special Needs Playground Equipment
Accessible Playground Equipment
Playground Equipment Slide
HDPE Playground Equipment
School Multiplay Station
Playground Multiplay Station
Commercial Swing Set
Kids Outdoor Playground Set
Can I Install The School Playground Equipment Myself?

Yes, you can install it on your own. But professional support helps you to gain the safest installation of your School Playground Equipment. We have well trained CPSI-certified crew that does the job safely and precisely. We handle all aspects of the facility from start to finish and give you the best installation service. So to avoid the risk of any accident, call us to have professional support.
Do I Get To Choose Colors For My School Playground Equipment?

Yes, you can choose the color that you want. We are committed to designing the School Playground Equipment in different colors, sizes, and patterns. You can choose the best color, and we will customize the School Playground Equipment in the same color and theme.
Can I Place My Order Online At Your Site?

Yes, you can place your order online. Browse our website and select the most suited School Playground Equipment for you. Set a quote to get the accurate shipping cost and pay the amount via any online method or cash on delivery. Now your task ends, and it's our time to offer you the best and safe order in the minimal possible time.